For fuck's sake. His embrace of the Women's March feels like the purvy cousin who used to watch us play in the sprinklers when we were kids while he chain-smoked and drank Keystone Light. Ugh.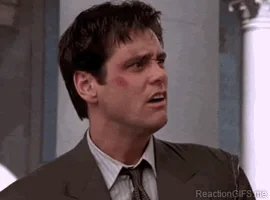 Does he think we marched because of how good we have it? How happy we are? (Although some folks did get an unexpected vacation today. #TrumpShutdown) If so, he's a poor judge of character and not very genius. He's taken OUR thing and tried to take credit for it because:
HE IS AFRAID OF US!
Or, is Fox News telling him we were basking in his glory?
Snort. I can't imagine a Trump supporter at the Women's March. I think it might be against their blood-oath. (It's what people are saying. Everybody knows it.) Not one MAGA hat in sight, although, now I need a rainbow pussy hat.
Thanks for giving us permission to "get out there." We probably had record numbers because he endorsed us.  The biggest crowds. All thanks to him. Now he's gonna want to watch us pillow fight and make out. **See gif above**
Spin hard, spin it all night long, but you can not  DROWN OUT OUR VOICE. I do thank you, Donald Trump, for uniting us. For making us better people. We will not be talked over or talk to.
Exist to resist!
That's me in the pussy hat with my best friends. The one on the right is also my best sister. Although I quote a line from Oprah, I think my political crush puts me in Cory Booker's corner.
Want more of my opinion? A little birch-curious? I'm not always so pissy. Try these tidbits:
OVERUSED PHRASES USED ON THE NEWS